REUNION - WHS CLASS OF 1958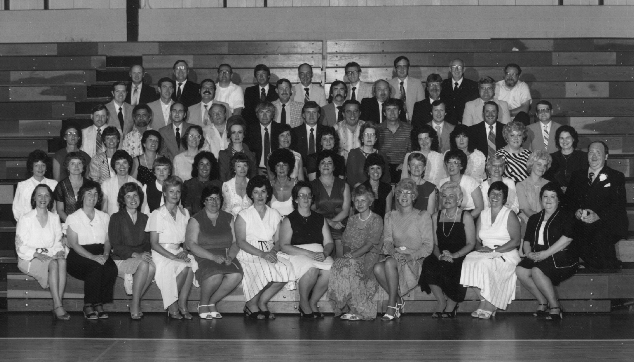 Shown above are members of the Welch High School Class of 1958 who attended the 1983 class reunion. Top row, left to right: Ronnie Vandell, Tom Spangler, Tom Funkhouser, Bill Bolen, Jim Joyce, Tony Majestro, Lonnie Akers, Ervel Jones and Jim Eggers. Fifth row: Larry Mahaffey, Sam Funkhouse, Jerry Rotenberry, Charles Warner, Jack Mullens, John Spencer, Dennis Perdue, and Herbert Swetnam. Fourth row: Bill Mitchem, Bob Mills, Bill Barker, Kenneth Rose, Jim Hubbard, Wayne Callahan, Gene Bowden, Freddie Hardison, Reggie Piercy, Don Smith, and Marvin Dodson. Third row: Janice Wilson Jones, Jerry Johnson Osborne, Anita Wilson McCarty, Ellen Latham Roman, Linda Cox Jackson, Rochelle Johns Payne, Marcia Hornbuckle Williams, Launa Hendrick Thompson, Jean Perdue Sinicrope, Vickie Perdue Stone, Judy Bland Grubbs, and Louise Lester Carver. Second row: Judy Johnston Gebhardt, Beuna Spinella Parziale, Betty Campbell Klosterman, Linda Smith Stacy, Carol Snead Adgie, Betty Coker Dunn, Alice Cline Musso, Marianna Cline Godfrey, Carmella Delgrande Watson, Sue Musick Dillon, Carol Sigmon Wilson, Mary Noe Walters, Cathy Luther Steorts, and Hershel E. Webb. First row: Patricia Friel Johnson, Anita Hylton Hogue, June Tucker Callahan, Racine Short Hall, Mary Sue Groseclose Bowman, Loye Blankenship Fine, Charlotte Day Richardson, Ina McDonald, Helen Lawrence Eddins, Phyllis Warren Hamilton, Barbara Verdiglione Tippett, and Susan Rhodes Roepke.

The Welch High School Class of 1958 reunited July 1-2, 1983, to celebrate their first class reunion. The committee overseeing this 25th year reunion included Hershel Webb, chairman, Larry Mahaffey, treasurer, Jerry Rotenberry, Don Smith, John Spencer, Jack Colobro, Loye Blankenship Fine, Charlotte Day Richardson, Marcia Hornbuckle Williams, Jean Perdue Sinicrope, and Launa Hendrick Thompson.
The '58 graduates and their families visited at a picnic on the grounds of Mount View High School in Welch on Friday, July 1. Saturday activities included a nostalgic tour of Welch High School and a dinner/dance at Mount View High School later in the day.
There were 71 classmates in attendance from the states of California, Arizona, Oklahoma, New York, New Jersey, Maryland, Ohio, Maine, Alabama, Louisiana, Florida, North Carolina, South Carolina, Georgia, Virginia and West Virginia. Teachers Joe Lassak, La Nelle Agee, Pauline Cook, Helen Las and Mr. and Mrs. Gray joined the class in celebrating this event.