WHS Classes of the Sixties & "ROCKET BOYS"
Promote Freida Riley Scholarship Fund
The Freida J. Riley Scholarship will benefit teacher education majors at Concord College. The goal of the fund is to perpetuate the strong education ideals that Freida instilled in her students, including the now famous "Rocket Boys."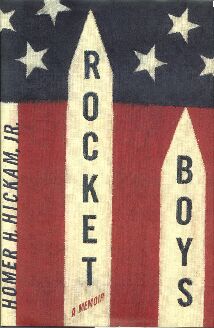 If you wish to help continue the dreams of other young aspiring teachers at Concord College,
please submit your contribution to:
Concord College Foundation
College Box 83, P.O. Box 1000, Athens, WV 24712-1000
Phone (304) 384-5317
A copy of "Rocket Boys" personally autographed, as a special favor to the WHS classes of the Sixties, by the author, Homer Hickam, Jr. was raffled off and given away at the "Sensational Sixties" Welch High School class reunion on July 31, 1999. We first thought of asking Homer Hickam for an autographed copy of this book as a door prize at the Welch High School 1960s reunion. Then, we read about the scholarship fund being established at Concord College in his former teacher's name, Freida Riley, and realized what a great opportunity it provided to contribute some Maroon Wave spirit to the cause. We presented our contribution of $1500 directly to Mr. Hickam on October 22, 1999, when he officially announced the establishment of this scholarship at Concord College. Many thanks to all of you who helped with our contribution to this scholarship.


Please email me at dskuja02@sprynet.com if you have any questions
Rocket Boys can be purchased online at

and

Please use one of the links here or the link you get by clicking on the book at the top of the page if you are planning make an online purchase of any book, CD or video from Amazon.com or Barnes&Noble.
5-15% of ANY purchase made through the links on this page will be contributed to
the Freida Riley scholarship fund.